How to download music videos from YouTube free?
Do you like watching music videos? Is YouTube.com your favorite and frequently used video sharing sites? Do you have the following questions:
The following guide can help you to solve your problems:
How to download music videos from YouTube using free program?
Tools Required:
Mac users please download the Free YouTube Video Downloader for Mac.
Download the software, install and run it.
The software supports two ways for downloading video clips from YouTube.com.
a. Download videos in IE Browser
b. Download videos with built-in YouTube Video Browser
a. Download music videos in IE browser
Step 1: Find Music Videos
Run IE browser, go to YouTube.com, search and open music videos you like.
Step 2: Create a New Task and Output Settings
Click "New Download" button on the toolbar to open the "New Download" dialog.
URL: Copy and paste the music video URL into it.
Destination: Select an existing folder or create a new folder for saving your downloaded files.
Start Task: Choose "Start Now" option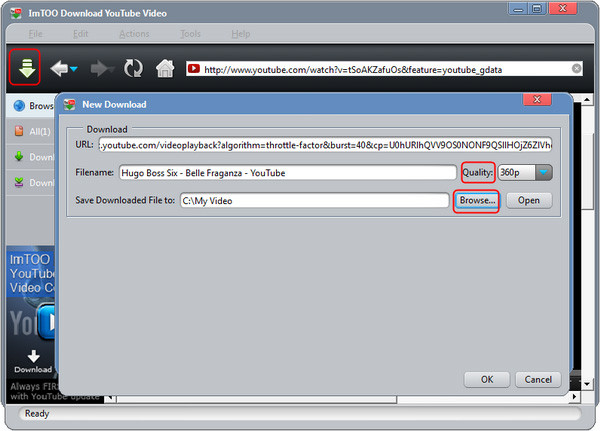 Step 3: Start downloading
After clicking the "OK" button, the process will begin automatically.
OK, done.
b. Download music videos with built-in YouTube Video Browser
Step 1: Adjust the task settings
Click "Tools > Settings" option from the main menu, then the "Settings" window pops up. Click to open the "Task" tab, and set the "Destination" and "Start Task" options in the "Task Default Configuration" area according to your own requirements.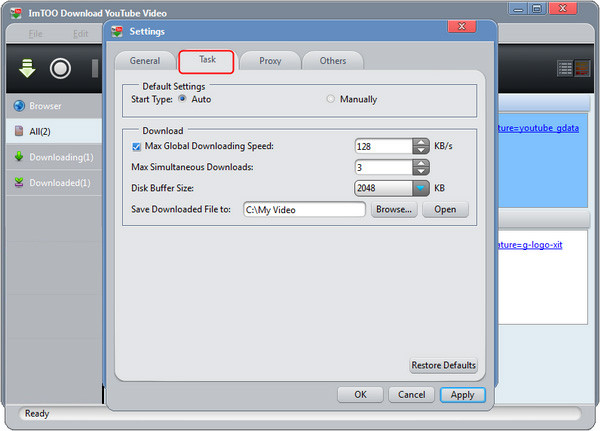 Step 2: Browse your favorite music videos in the built-in browser
Click "Browse videos" button on the toolbar or check "Browser..." option in the "Tools" menu to open the "YouTube Video Browser" window, and use the filter buttons at the bottom to browse the YouTube videos by different categories: Recent Videos, Most Viewed, Top Rated, Most Responded, Spotlight Videos, Top Favorite, Watch on Mobile, Most Discussed and Rising Videos.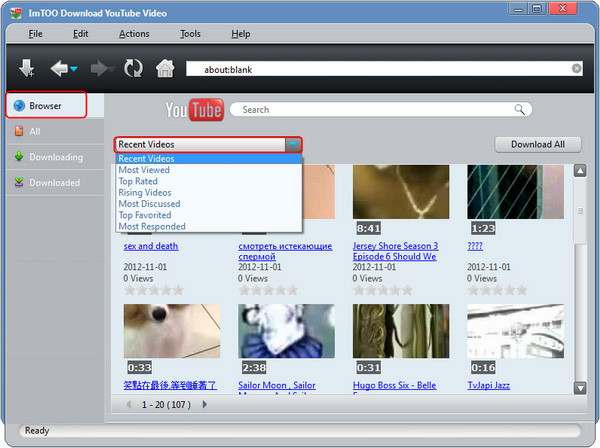 Step 3: Start Downloading
Click the down arrow at the left top of the video to start your downloading process.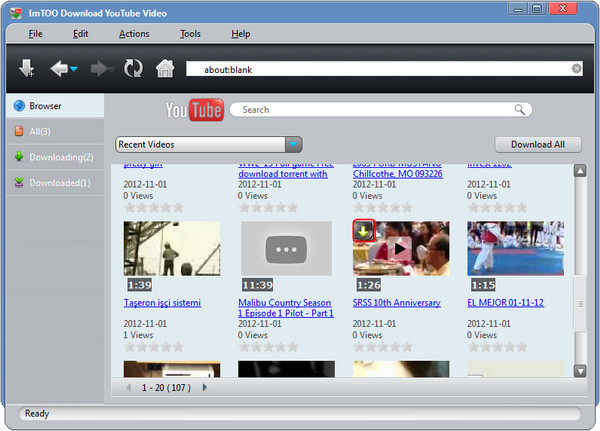 OK, done.
If you want to download music videos from other websites e.g. Metacafe, Dailymotion, Break, Vimeo, Revver, Blip, Vidilife and Stickam? Please try Online Video Downloader.
If you also want to download and put YouTube music videos onto your iPad, iPod, iPhone, PSP etc. digital devices, please try YouTube Video Converter.
Related Tips:
Add New Comment