ImTOO iPhone Contacts Transfer for Mac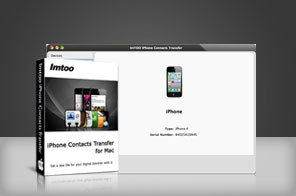 Buy Now
Price:
$15.95

Free Download
Size:
24.9MB
Back up iPhone contacts to Mac and restore contacts from the backup file
Transfer contacts to your iPhone that is on iCloud
Full contact import/export support from/to-your favorite address books, including Google Contacts, Yahoo Address Books, Outlook and Windows Address Books
Transfer contacts between multiple iPhone to from iPhone to other mobile phones
Great interface allows you to easily manage and organize your iPhone contacts on Mac OS
Support iPhone 8, iPhone 8 Plus, iPhone X, iOS 17 and iTunes 12 now
Introducing ImTOO iPhone Contacts Transfer for Mac, the all-in-one comprehensive package for managing your iPhone's contacts. Back up,restore, import, export, organize, your contacts on iPhone! Never worry about an accidental loss or deletion again.
Give your precious contacts a realm of safety with this new release from ImTOO. Packed full of scintillating features, it allows you to manage all your contacts from one place. You can even handle your contacts by importing/exporting contacts in CSV/vCard files from/to Google Contacts, Yahoo Address Books, Outlook, and Windows Address Books. Don't hesitate, grab a copy and download ImTOO iPhone Contacts Transfer for Mac today!

iPhone Contacts Transfer Mac



Main Functions
Back up iPhone Contacts to Mac
Keep a safely stored backup copy of your iPhone contacts on your Mac!
Transfer your iPhone Contacts from iCloud
You can take Full advantage of iCloud by transferring your iPhone contacts from iCloud to your Mac or directly sync to your iPhone.
Contact Import/export
Import/export from address books including Google Contacts, Yahoo Address Books, Outlook, Windows Address Books, Apple Address Book, Fastmail, Rediff Mail, Mail.com, Loposte, Orange, Skype, Freenet.de by introducing CSV or vCard(.vcf) format files.
Transfer Contacts between Multiple Phones
Transfer contacts between your iPhone and another iPhone, or from iPhone to other popular mobile phones like Nokia, Blackberry, Android phone, Windows Phone and more.
Restore iPhone Contact with Mac
In the event of accidental loss or deletion, never fear, restore your contacts with a click of a button!
What's new
Fully compatible with iOS 17, iPhone 15, iPhone 15 Plus, iPhone 15 Pro, iPhone 15 Pro Max
Fully compatible with iOS 7, iPhone 5s, iPhone 5c, iPad Air
Fully support iOS 6, iTunes 10.7, and iPhone 5
Transfer contacts to your iPhone that is on iCloud
Added the function of importing contacts from Hotmail, Aol Mail, and Thunderbird to iOS devices through .csv file
Optimized the manners of importing and exporting contacts
Key Features
Sort contacts to better look through the contact information.
Save the image of contacts from iPhone to Mac for storage.
User search for quick and easy contact finding.
Keep a safe copy of your contacts, wherever you are!
Clean and easy to use interface makes contact management a breeze.
8 Languages include: English, German, Spanish, Italian, French, Japanese, Simplified and Traditional Chinese.
User Reviews
"Easy as 1,2,3 to export my contacts from my iPhone 4 to Macbook."Eliza, Australia