VCD to DVD: How to convert VCD video (.dat) to DVD?
I have some *.dat files copied from the VCD disk on my computer. In order to save space of the hard disk and preserve the video file permanently, I want to burn them to DVD. On the other hand, I can play it on my DVD player to enjoy the wonderful video with my family.
ImTOO DVD Creator is featured as a professional DVD burner. High speed conversion and easy-to-use interface is highly recommended by many users on Facebook.This article will describe how to convert VCD video to DVD in several easy steps . Follow our guide and try now!
What is VCD?
VCD (also called video CD, video compact disc or "disc") is a compact disk format based on CD-ROM XA that is specifically designed to hold MPEG-1 video data and to include interactive capabilities. VCD has a resolution similar to that of VHS, which is far short of the resolution of DVD. Each VCD disk holds 72-74 minutes of video and has a data transfer rate of 1.44 Mbps. VCDs can be played on a VCD player connected to a television set (in the same way that video cassettes can on a VCR) or computer, on a CD-i player, on some CD-ROM drives, and some DVD players.
Tools Required:
imTOO DVD Creator: A professional DVD maker software for both newbies and experts can help you convert VCD video (.dat) files to DVD video and burn to DVD disc directly. And Mac user please download imTOO DVD Creator for Mac
Guide: How to convert VCD video (.dat) to DVD or burn VCD video to DVD disc
Step 1: Download the VCD to DVD Converter. Install and run it.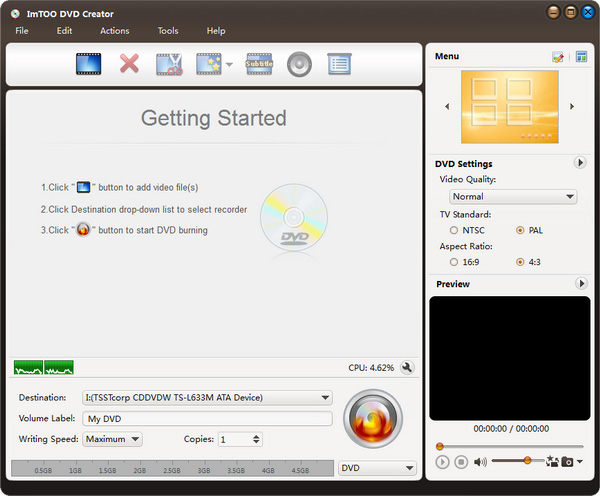 Step 2: Insert a blank DVD disc.
Step 3: Add VCD video files into the program by clicking "Add File(s)" button on the toolbar.
Tip 1: You can load up to 99 video files by using this VCD to DVD Converter.
Tip 2: Choose a resize method. Click a file and select Letterbox, Pan and Scan or Full Screen.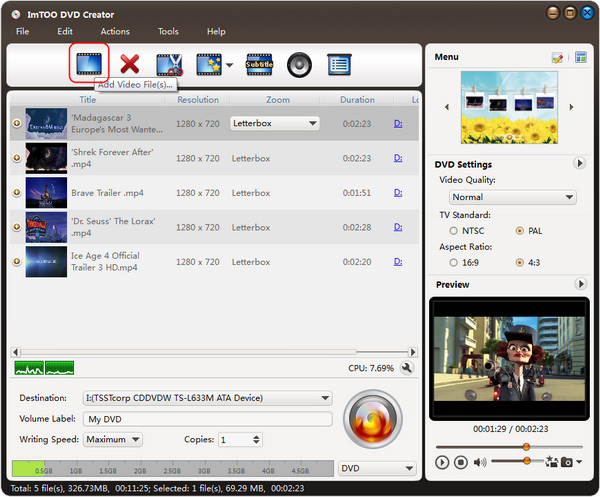 Step 4: Make DVD menu. Click "Edit" icon on the menu panel to open the Menu editing window. Here you can:
1. Select a menu template.
2. Add titles and change the font style: Double-click to add titles. Click to modify the font size, color, etc.
3. Set background music and background picture.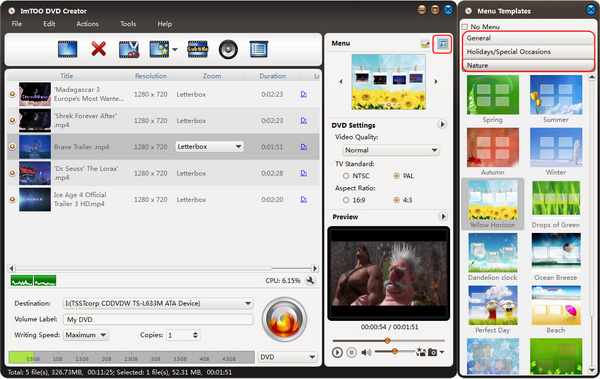 Step 7: Convert VCD to DVD.
Click "Burn" button to start the conversion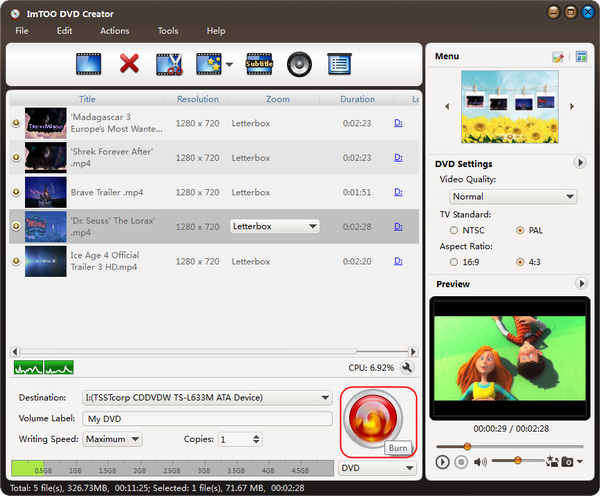 Okay, done.
Related Tips: