How to convert QuickTime to AVI?
Have you ever been confused about how to convert QuickTime videos to AVI format videos? Here we would like to show you how to convert QuickTime to AVI using a smart video file converter software - MOV Converter.
What is QuickTime file format?
The QuickTime (.mov) file format functions as a multimedia container file that contains one or more tracks, each of which stores a particular type of data: audio, video, effects, or text (e.g. for subtitles). Each track either contains a digitally-encoded media stream (using a specific codec) or a data reference to the media stream located in another file. Tracks are maintained in a hierarchal data structure consisting of objects called atoms. An atom can be a parent to other atoms or it can contain media or edit data, but it cannot do both.
Guide: How to convert QuickTime to AVI?
First please download the MOV Converter. Install and run it.
Mac user please download the Video Converter for Mac.
Step 1: Add QuickTime videos into the software.
Step 2: Set AVI profile as your output file format.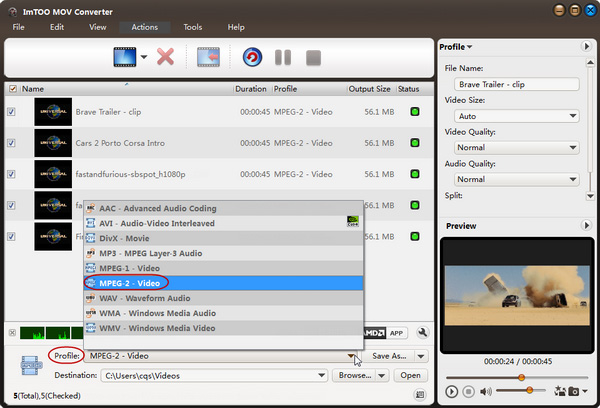 Step 3: Change output folder.
Step 4: Start to convert QuickTime to AVI.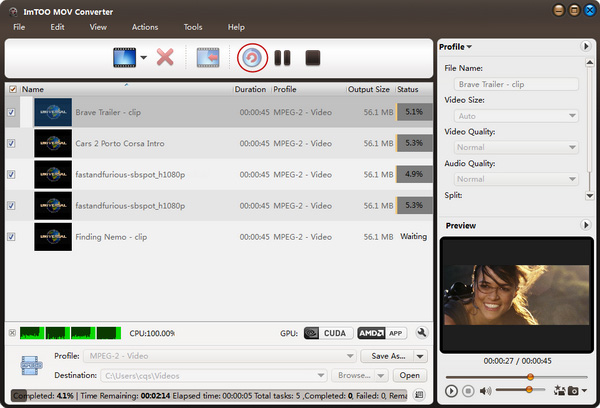 Ok, done.
Related Tips: