How to create Blu-ray ISO file from common video files?
How to create Blu-ray ISO file from common videos files so that you can burn them to BD disc or DVD and play them on Blu-ray players. This step-by-step guide shows you the answer with ImTOO Blu-ray Creator, which can convert almost all popular vides files such as AVI, MPEG, MP4, WMV, MOV, MKV, MTS, TS, VOB, FLV, etc. to Blu-ray disc and DVD.
Guide: How to create Blu-ray ISO image file from common video files?
Tool Required: Blu-ray Creator
Step 1: Download the software. Install and run it.
Step 2: Import video files into the Blu-ray Creator. Click "Add Video File(s)" button on the toolbar to load your files.
Step 3: Click "Destination" drop-down list to choose where and how you want to save the converted BD files. Here are three options: Burn to BD Disc or DVD, Save as BD folder and Save as Image (.iso).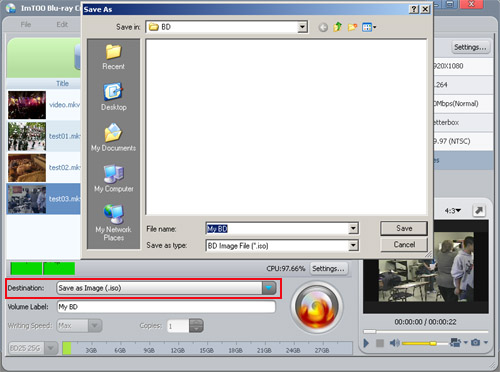 Step 4: Configure output parameters. Click "Settings..." button to open the Settings Window.
You can modify:
Video Size: 1280×720p, 1440×1080p, 1440×1080i, 1920×1080i, 1920×1080p;
Codec: MPEG2, H.264;
Quality: Highest, High, Normal, Low, Lowest;
Resize Method: Letterbox, Pan and Scan, Full Screen;
Frame Rate;
Deinterlace.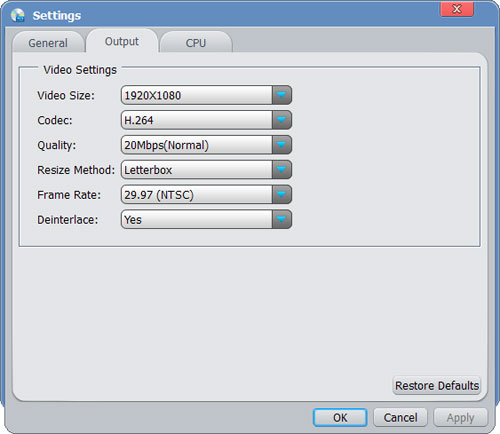 Step 5: Set Volume Lable.
Change your output file name in the Volume Lable text box.
Step 6: Start creating Blu-ray ISO file.
Choose Writing Speed and Copies number, click "Burn" button to make your BD ISO file.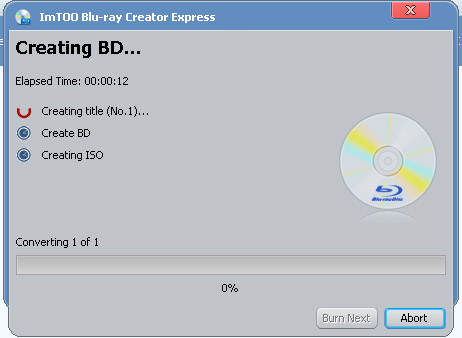 Okay, done.
What is Blu-ray?
Blu-ray, also known as Blu-ray Disc (BD) is the name of a next-generation optical disc format. The format was developed to enable recording, rewriting and playback of high-definition video (HD), as well as storing large amounts of data. The format offers more than five times the storage capacity of traditional DVDs and can hold up to 25GB on a single-layer disc and 50GB on a dual-layer disc.
Related Tips: