How to create FREE iPhone Ringtones yourself?
Question:
1. Can I use my own music as a ringtone on my iPhone? On the iPhone, it only let me use the annoying default ringtones.
2. I just bought an iPhone last week and want to add some ringtones to it, are there any programs I can use to buy them from or a way to create them, aside from iTunes?
Creating iPhone ringtones with iTunes is a common way. But it is only for some non-DRM songs.
iPhone Ringtone Maker is another popular way to make your own ringtones for iPhone. It is an iPhone ringtone DIY tool which can turn your own songs or audio files into ringtones, extract audio file from video and convert to M4R ringtone for iPhone. It also can transfer the converted ringtone to iPhone directly without using iTunes.
Here we will show you a detailed guide about how to create custom iPhone ringtones using the iPhone Ringtone Maker software.
Step-by-step Gudie: How to create FREE iPhone ringtones yourself
First, download the iPhone Ringtone Maker software, install and run it.
Mac user please download the iPhone Ringtone Maker for Mac.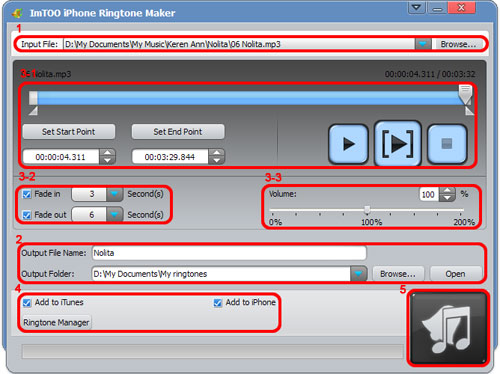 Step 1: Input file.
Click "Browse..." button to choose audio or video file you want to turn into ringtone.
Step 2: Select segement.
Drag and drop the start & end sliders to get your clip.
Step 3: Choose output folder.
Step 4: Check "Export to iPhone".
Step 5: Start.
OK, done.
iPhone Ringtone Related Tips:
Add New Comment