How to put videos/movies on iPad, play videos on iPad?
Watch videos on iPad?
iPad's large, high-resolution screen makes it perfect for watching any kind of video: from HD movies and TV shows to podcasts and music videos. Switch between widescreen and full screen with a double-tap. Because iPad is essentially one big screen, with no distracting keypad or buttons, you feel completely immersed in whatever you're watching.
How to put your own videos/movies on iPad, iPad 2, New iPad, or iPad 4?
Note: Generally, you cannot put everything in your iPad. For video files, you have to make sure that your videos are in iPad acceptable formats. While, using the iPad transfer tool, we can convert and transfer newly all video formats even DVD movies to iPad for free watching.
Tool Required:
ImTOO iPad Mate Platinum - ALL-IN-ONE solution for Apple iPad (iPad 2, new iPad, iPad 4) users to convert and transfer videos, DVD movies, online video, music files to iPad directly without using other software.
What's more, It's also an iPad/iPod/iPhone backup software which can transfer video and audio files in your iPad/iPod/iPhone back to computer and iTunes library. With it, you can share files among your iPad, iPod, and iPhone.
Mac users please download the ImTOO iPad Mate Platinum for Mac.
Note: Want to put your Blu-ray disc movies on iPad? Try the Blu-ray Ripper. Turn PDF files into EPUB eBooks? PDF to EPUB Converter.
First, please download the software according to your operating system, install and run it.
Connect your iPad to computer.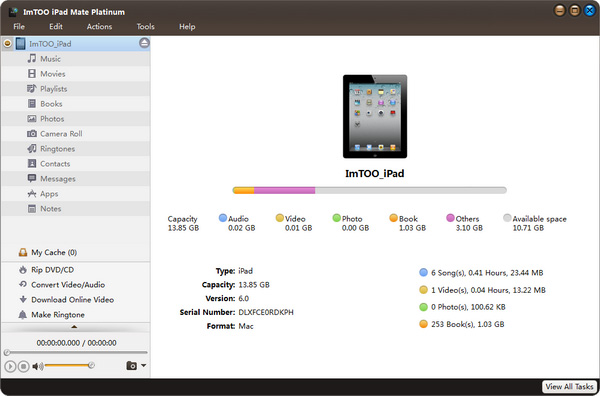 Guide: Transfer iPad compatible videos to iPad
For iPad compatible format videos that mentioned above, you can directly open the iPad "movies" node, and click "Add files to Device" button to load the videos.
You can also optionally put videos to iPad by drag-and-drop.
Guide: Convert and transfer other videos to iPad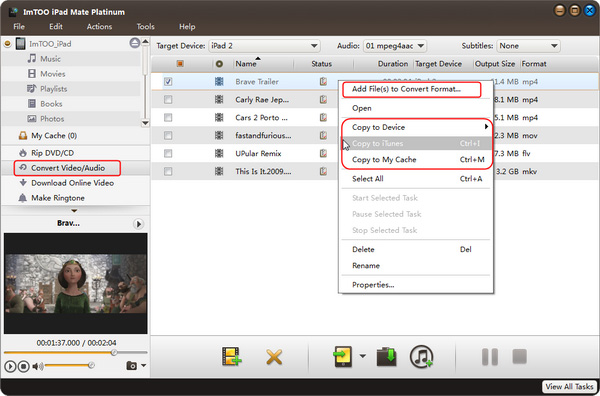 1. Load incompatible video files into iPad.
a. Select "Convert Video/Audio" node from the left directory tree, and click "Add File(s) to List" drop-down button to load video/audio files or a folder from the drop-down menu.
b. If you add device-incompatible files to the "Convert Video/Audio" node, the software will automatically convert them to the format you set.
2. Convert and transfer videos to iPad.
Check one or more videos and audios you want to transfer in the file list, and click "Copy File(s) to Device" button to start copying.
If you connect more than one device simultaneously, then the "Select Copy Destination" dialog box will pop up to ask you to choose the target device(s) you need.
OK, done. ImTOO iPad Mate Platinum will automatically convert the file and export it to your iPad after then .
Guide: Transfer and watch DVD movies on iPad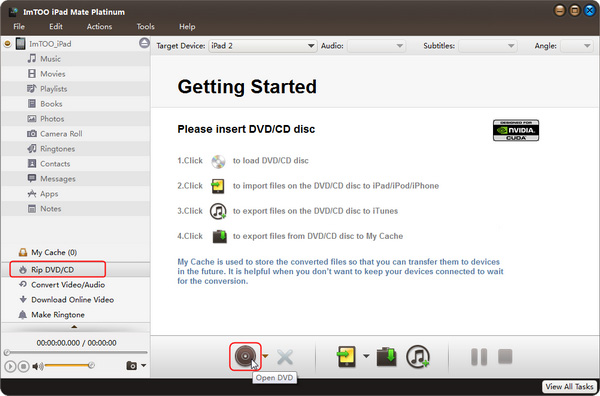 1. Load DVD movies into the software.
a. Click "Rip DVD/CD" node in the left panel. Then right click "Rip DVD/CD" node or click "Open DVD" button to import your DVD movie files. You can import DVD disc, DVD folder, IFO and ISO files.
b. After you choose the DVD disc, the files will be loaded, and the "Rip DVD/CD" node would change to the DVD node.
2. Rip DVD and transfer converted movies to iPad.
Check DVD movie files in the list and click "Export Checked File(s) to Device" button, and in the expanded device list (here we only connect one iPad), choose the iPad device you want to put the DVD movie to.
OK, done. Just let ImTOO iPad Mate Platinum do all the next job including DVD ripping and video to iPad transferring.
After a while, you will see all the videos are putted onto iPad. Then you can watch all those files on your iPad.
For more information about how ImTOO iPad Mate Platinum can do for you, please go to the Full Guide page.
Related Tips:
Add New Comment