ImTOO DVD Copy Express FAQ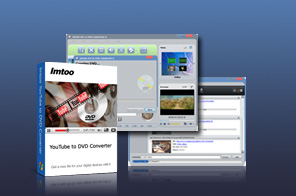 ImTOO YouTube to DVD Converter
Download, convert and burn YouTube videos to DVD disc, DVD folder and ISO file.
More...
Free Download
Buy Now
Q1: I have launched ImTOO DVD Copy Express. But I can only get a main interface shown on my screen. Where are the menus of the program? At least I should be able to read the version information. Generally, it should be found in the "Help" menu of your program. Where is it in this program?
Q2: Where are the necessary settings? There are no such items in the drop-down of menu items.
Q3: What do "Include Menus" and "Skip Menu" mean? I noticed these two options at the bottom of the setting panel and the first one is checked as default setting. What they can do respectively?
Q4: My DVD is a D9 movie. Is it possible to get it copied into a D5 movie? It means I want to know whether I can store the final movie into one D5 disk.
Q5: On your description page, you mentioned that 10 GB Cache Space is required in the program running. What does it mean? Where can I set it?
Q6: What does DVD Folder mean?
Q7: My original DVD has several audio tracks and subtitle options. Is it possible that I just select one of them for the final burned disk?
Q8: According to your product description, your program should be able to just copy the main movie of the DVD. I have selected Main Movie mode before I start the copy job. But I did not get the complete or correct main episode of the movie in the final disk for some of my DVDs. Why?
Q9: What does ISO do? According to your description, it is the image file of DVD. But how can I use it after an ISO is created by your program?
Q10: Is your program able to copy and backup any DVD movies? Does it mean it will also clone all encrypted movies?
Q11: What does D5 or D9 mean? I have some double-layer DVD writable disk. Can I use them for the burning job of your program?
Q12: I have launched your program successfully. And then I put a DVD movie into the drive and select it as "Source" in your program. But your program shows it is not an effective DVD source. Why? I have checked my DVD disk. It is a good one and it is playable as a DVD on my PC.
Back to ImTOO DVD Copy Express.